Here are two important community events. Please go out and show your support!
__________________________________________________________________Join the LGBT Faith Leaders of African Descent on Wednesday, Nov. 30th, 7PM at Medgar Evers College for the book reading and signing of "Dance of Difference: The New Frontier of Sexual Orientation" by Shirley Anderson Fletcher. This is the story of a Jamaican woman who remembers and analyzes her childhood growing up. This is the story of a person who moves from positions of exclusion to acceptance of LGBT people.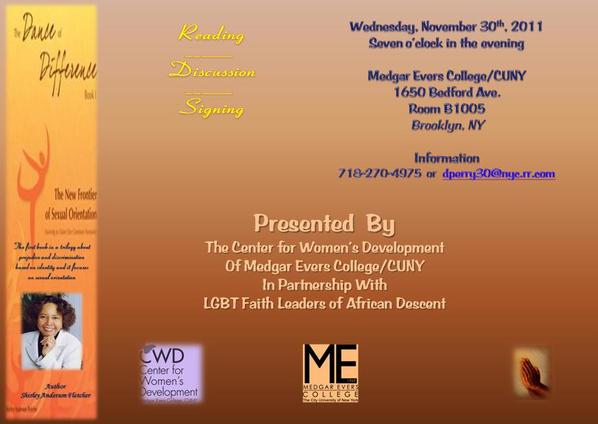 For More Information:
Medgar Evers: 718-314-1541 or Email: dperry30@nyc.rr.com
---
---
Join DBGM (Depressed Black Gay Men) at their benefit to raise funds for the completion of the documentary "You Are Not Alone".  Many Black men, especially those with a same-sex attraction, do not have the luxury of accepting themselves as they are. Often, many have to hide and suppress who they are, living lives in shame, dealing with stigma, discrimination and homophobia, all which contribute to their suffering in silence from depression. So Please Join in supporting the benefit to raise funds for the completion of a documentary "You Are Not Alone" in which Black gay men share their stories of their struggle and suffering from depression.
Brooklyn Society for Ethical Culture
53 Prospect Park West Brooklyn, 11215
Saturday, November 19, 2011 from 7:00 PM to 11:00 PM (ET)
$45/person – $80/couple  Tickets Available Online Only
For More Information: www.projectdbgm.com
RSVP HERE: http://fundraiser111911.eventbrite.com/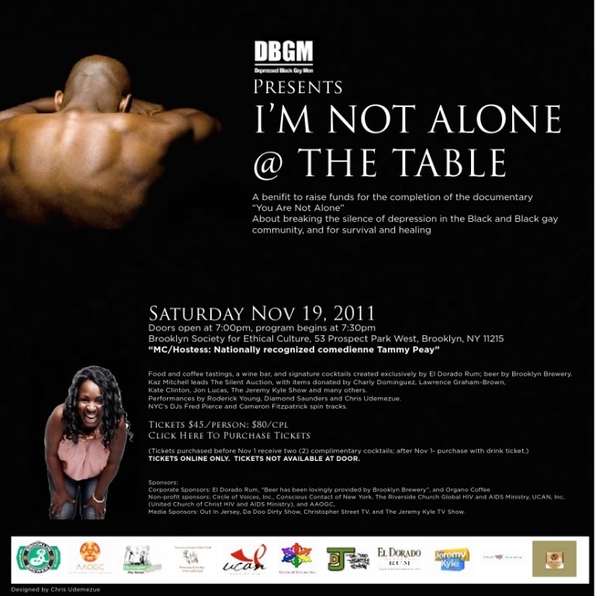 ---
The mission of Harlem Pride is to promote Lesbian, Gay, Bisexual, Transgender, and Same Gender Loving pride in Harlem and to provide opportunities for networking and communication among its LGBTQ & SGL organizations and community members.
Harlem Pride was incorporated in the New York State as a Not-For-Profit Corporation in 2010, and received its retroactive 501(c)(3) tax exempt status from the Internal Revenue Service in 2011.  Harlem Pride is a Registered Charity in New York State.  All donations are Tax Deductible.
Anytime you have questions, comments, concerns, or ideas, please email us at info@harlempride.org and let us know what's on your mind.  Thank you.

Thank you for your support!

Sincerely,
–The Team at Harlem Pride, Inc.